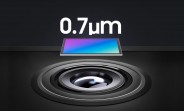 Samsung released the first image sensor with 0.7µm pixels last year and is now introducing four new models based on 0.7 µm pixels. The goal is to create smaller, thinner camera modules. These sensors use ISOCELL Plus but the company plans to introduce versions with the new ISOCELL 2.0 later this year.
Compared to 0.8µm sensors, the new ones are up to 15% smaller and camera modules using them will be up to 10% thinner, which will make for smaller camera bumps.
The ISOCELL HM2 is Samsung's third 108MP sensor. Like the HM1, it uses nine-pixel binning tech and can do up to 3x lossless zoom….