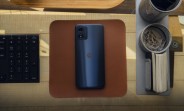 Motorola opened the floodgates by releasing four new Moto G-series phones alongside a new Moto E-series entry. We'll cover the Moto G23, Moto G13 and Moto E13 in this post while the Moto G53 and G73 are in a separate story which you can check out here.
Moto G23 and Moto G13
Moto G23 and Moto G13 share the same 6.5-inch IPS LCD display with HD+ resolution and a 90Hz refresh rate. The pair also offer stereo speakers with Dolby Atmos and are equipped with a headphone jack. Moto G23 gets a nicer 16MP front-facing cam while the G13 makes do with an 8MP selfie shooter.
Moto G23 and…