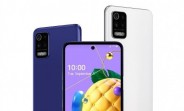 LG is adding three new models to its affordable K-series – well, two new models, technically. They all feature 6.6" displays, quad cameras and 4,000 mAh batteries, plus they aspire to be rugged (if not quite successfully).
The three will be available in Europe starting in October, then LG will bring them to "key markets" in Asia, Latin America and the Middle East.
LG K62
The LG K62 sets the tone for the trio. It has a 6.6" LCD with 1080p+ resolution (20:9) that will help you create and consume content – these phones are meant for a young, sociable audience.
The a 48MP camera on…