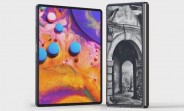 The TET-AN00/TET-AN10 – which is believed to be the Huawei Mate X2 – has received the stamp of approval from TENAA, a few days after passing through the 3C. This means the phone is good to go and the official announcement could be around the corner.
The full information from the certification process has not been published yet. Leaks suggest that the new foldable will keep the screen size at 8", but will switch to an in-folding design (the original X leaves the display outside).
As seen in patent drawings, this change requires a secondary screen to remain outside – a narrow 4.5" panel….